Save with Sig: 10 Ways to Save Money On Gas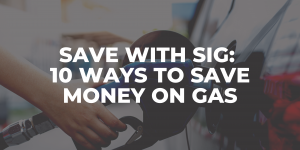 Gas prices are constantly in flux and when they trend upwards, we all begin to ponder the ways in which we can cut costs. Luckily for you, we've gone ahead and compiled ten money-saving tips when it comes to gas so keep on reading to save money on your next fill-up!
1. Use Apps to Find the Cheapest Gas
It's never fun to fill up your tank only to drive down the road and see another station that has gas for a lower price. The good news is that you can avoid this by utilizing apps that share gas prices. GasBuddy and Waze are two popular apps people use for this. Try to find one with the best price that is on or near your normal route.
2. Skip the Premium Option
Premium isn't always necessary. If your car doesn't absolutely need it, opt for the lower option and save some money.
3. Use Free or Discounted Gift Cards
If you want to go the extra mile (pun intended) you can earn gift cards or cash through online surveys, or even buy discounted gift cards from places like Raise or Gift Card Granny.
4. Join a Fuel Rewards Program
If you have to fill up anyway, you might as well get rewards for it, right? Utilize a fuel rewards program that makes sense for you.
5. Use Cash Instead of a Card
Some places offer a discount if you pay in cash instead of a card. Be mindful of this and take advantage of those savings when you can.
6. Reduce Your Idle Time
Leaving your car on idle does use up gas so if you're waiting for your partner who ran into Target and "just needs to pick up a few things" it's better to turn the car off than allow it to idle.
7. Use a Rewards Credit Card
Plenty of credit cards offer fuel reward points so opt to fill up with one of those instead of your debit card and earn those free rewards. Remember to pay off the credit card in time so you aren't stuck losing money on interest.
8. Plan Routes
When you're trying to maximize your miles, it's important to plan out your trips. Even day trips to run errands are good to plan. Look at the map or just think about the route and decide to hit the destinations based on closest to farthest so you don't find yourself zig-zagging all over town.
9. Fill Up Early in the Week
Studies have found that gas prices tend to be cheaper on Mondays and Tuesdays with spikes being seen on Fridays, Saturdays, and Sundays, so don't wait until the end of the week, fill up earlier.
10. Share Rides
Do you have a coworker who lives in your neighborhood? You should consider carpooling together and switch off who drives or split the gas. Either way the environment and your wallet will thank you.
Conclusion
While we can't mandate gas prices at Sig, we can provide ways in which you can save at the pump. We hope you found these tips helpful and let us know if you have other money saving tips!