Save with Sig: 10 Ways to Save Money On Your Vacation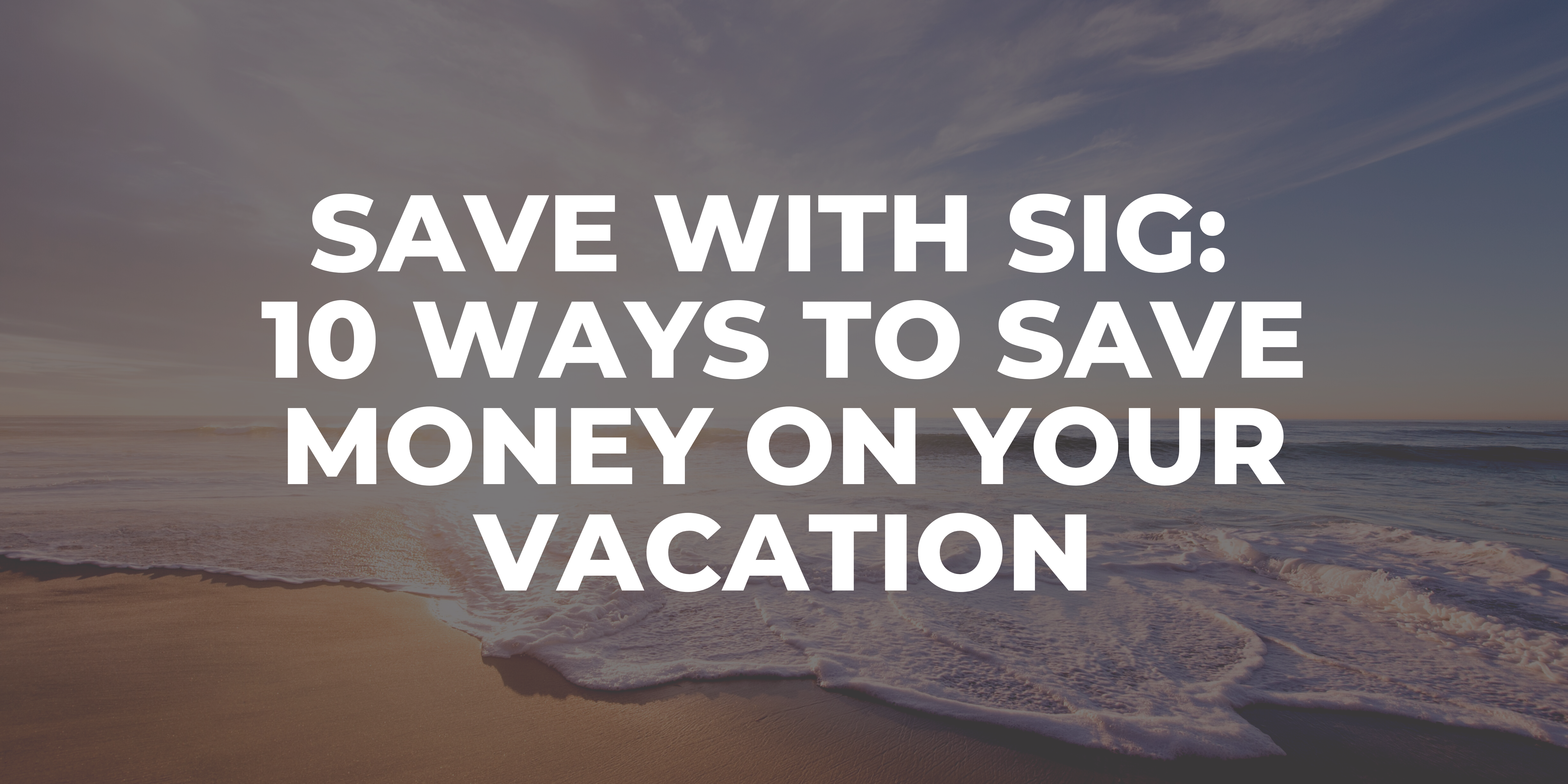 We live in a workaholic-obsessed culture.
People work hard for different reasons, sometimes it's to pay the bills, and other times it's to achieve their career dreams. Regardless of the motivating factor, it's important to take breaks and refuel your energy bar, but sometimes a break like a vacation can seem too extravagant to take. But what if you could save money on your vacation and book the getaway you've been longing for?
In this blog, we will share ten tips on how you can save money on your vacation.
1. Travel during the off-season.
Not only does the off-season mean fewer crowds, but it also means lower prices on dining, hotels, and travel.
2. Consider a rental property over a hotel.
Sometimes a rental property is cheaper than a hotel, plus you have the added bonus of privacy. Look at sites like airbnb.com and booking.com for rental property deals.
3. Find a museum with free days.
Most museums offer free days so look at their website ahead of time to learn what days those are. Some may not offer free days, but they offer group discounts or donation only days where you can pay what you want to get inside.
4. Bring a reusable water bottle.
Buying drinks can add up, but water fountains are free so bring your reusable water bottle to stay hydrated and save money.
5. Pack as light as possible.
Anyone who has flown with overweight luggage knows how expensive it can get. By packing light, you ensure you avoid those overweight fees. If you plan to buy stuff on your trip, make sure you leave room in your suitcase when you head out so you avoid the overweight fees on the return trip too.
6. Book a hotel room with breakfast included.
Free continental breakfast can save you money and the headache of figuring out where to get food and coffee first thing in the morning.
7. Skip the bar and the dessert menu.
While drinks and dessert can be enjoyable, if you're looking to keep your vacation cost down avoid those menus and focus just on the main meal.
8. Take advantage of those coupons and subscriptions sitting in your email.
Many of us have hundreds of emails in our inbox with discount codes waiting to be used. It's time you finally go through them all and see what can help you save on your next vacation.
9. Purchase plane tickets in advance.
While you can sometimes find last minute deals, it is typically best to book in advance if you're looking to pay less for you plane ticket.
10. Plan out meals and eating expenses in advance.
Set up a budget for how much you'd like to spend on meals for your trip and stick to it. If you find places ahead of time and review their menus you'll have a better idea of what a reasonable budget is and be able to plan accordingly.
Conclusion.
You deserve a vacation, but we know it's not always financially feasible. We hope these ten tips help you save money on your next trip!