Save with Sig: 10 Ways to Save On Your Wedding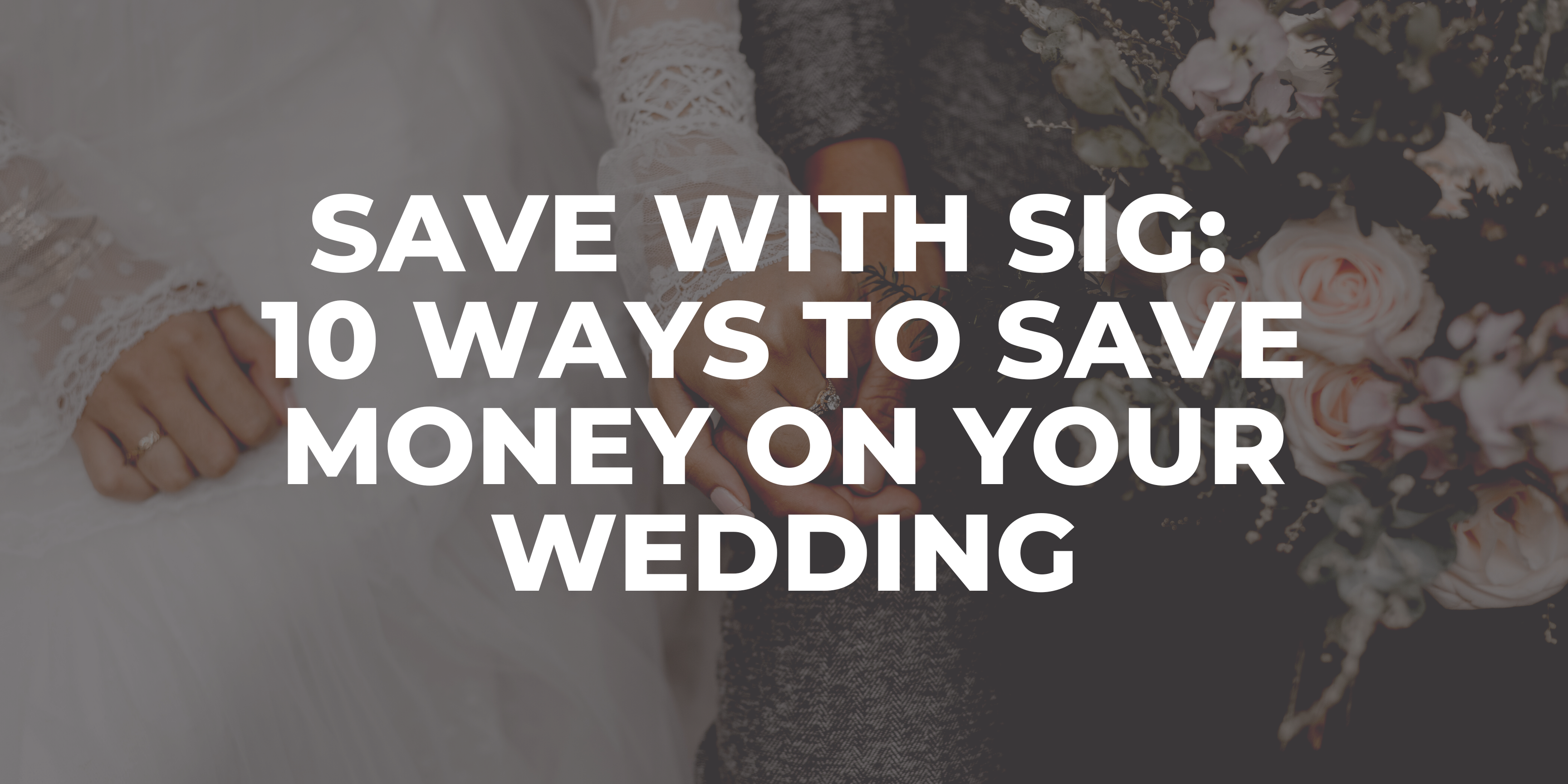 In 2021, the average cost of a wedding in Georgia was $27,000 (according to the Knot).
Many couples may be wondering what ways they can save on their special day, so we've compiled a list with some tips. Keep reading to find out how to have the extra money in your pocket.
In this blog, we will share ten tips on how you can save money on your wedding.
1. Opt for an off-season wedding
June weddings are a tale as old as time, but they're also one of the most coveted months in the wedding season. When you begin looking at venues ask them if they offer off-season discounted prices and what they consider to be off-season. Typically off-season will be between November to February, but that can fluctuate depending on location.
2. Get married on a weekday
While a weekday or Sunday wedding may not be for everyone, this might be the perfect way to save on your special day. Many wedding venues have weekday availability for thousands of dollars less than the typical Saturday.
3. Select in-season food and flowers
Using in-season food and flowers is a significant money saver. You can also have your flowers pull double duty to save even more money. An example of this is having the bridal bouquets double as the centerpieces on the reception tables.
4. Limit the plus ones
Not everyone needs a plus one, the people you are inviting are there to celebrate with you so use the plus ones sparingly and have a prepared response for people who insist on asking for one anyway. It's your day and it's ok to say "no."
5. Keep it small
It might be hard, but keep in mind you're only going to have, but so much time with each person there so really hone in on who you want to celebrate that day with. You and your partner will start with a big list, but it should go through a few cutting rounds and get smaller each time. One of the biggest costs is catering so having a smaller invite list will help you stay within budget.
6. Stick to beer and wine
Liquor can add up quickly, so keep it simple and save money by sticking to beer and wine.
7. Skip the wedding favors 
Many people forget these or throw them away anyway, so save money and write a heartfelt letter to each table or deliver a lovely speech to your guests. They will enjoy this moment and it will save you money.
8. Send e-vites
Good for the planet and good for your wallet. You may still need to print a few invites for the relatives that struggle with technology, but it's still a great way to save some money.
9. Seek out sales
Follow your favorite shops and stores on social and keep an eye out for their sales. Be sure to also join your local yard sale pages on Facebook and bridal resale groups where you can score discounted items for your big day.
10. Elope
And if planning is starting to overwhelm you and you want to cut costs significantly, there's always one of the least expensive options – eloping. You can even make this special, romantic, and unique to you as a couple.
Conclusion.
No matter what you decide to spend your money on, remember this day is about celebrating your love – keep that focus throughout the process and you can't go wrong.