Save with Sig: 10 Ways to Save Money When Buying a House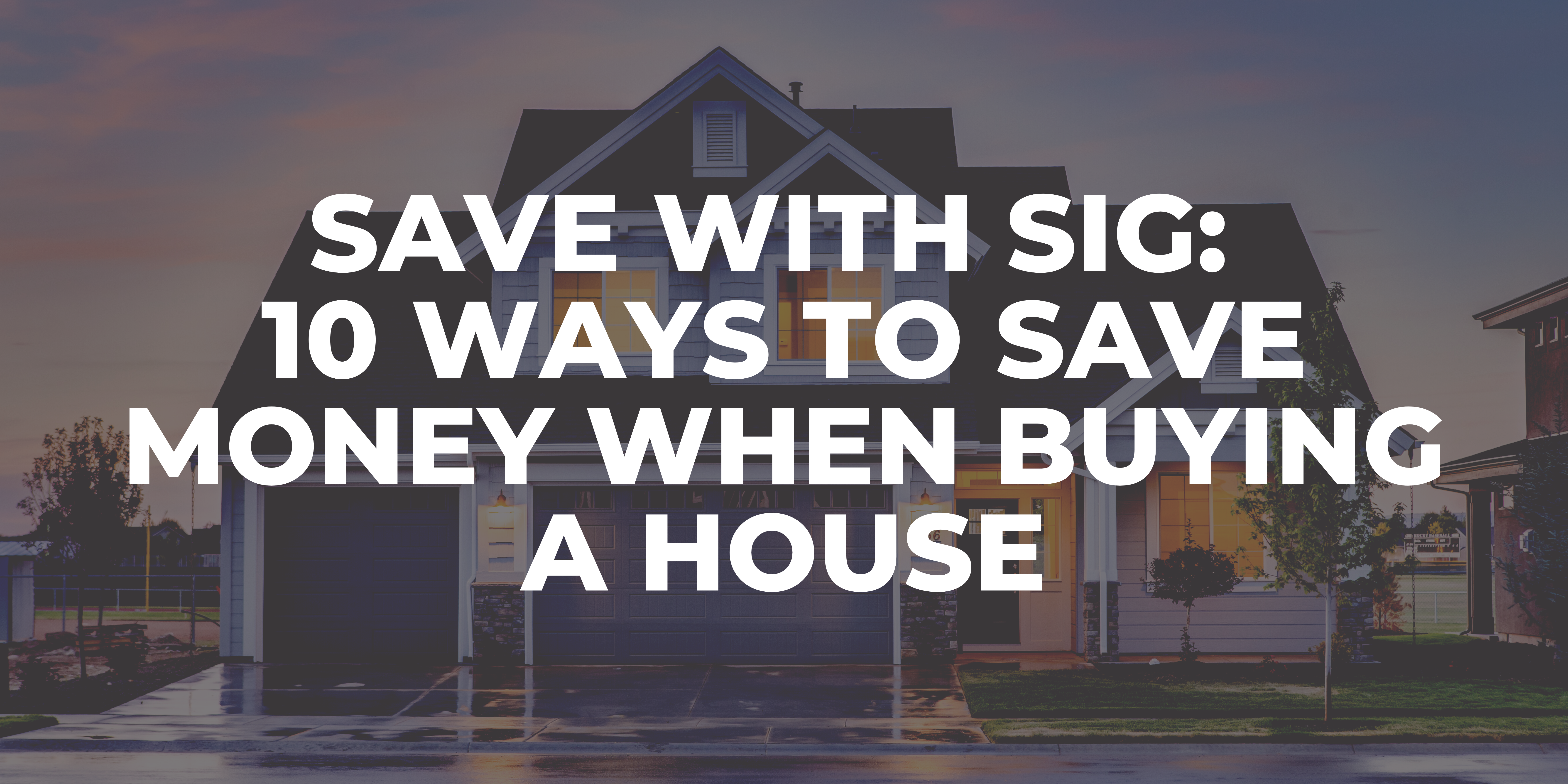 The housing market has only recently started to cool down but in many areas, it still remains expensive to buy a home.
Many people still hold the "American Dream" of owning their own home, but may not be sure how to make it feasible. Luckily we've gathered some tips to make that dream a little closer to reality.
In this blog, we will share ten tips on how you can save money when buying a house.
1. Work with a skillful real estate agent
Working with someone who understands the area and is knowledgeable about the various ways you may be able to save money is an incredibly valuable asset, especially for first-time home buyers. If you're unsure who to work with, ask your friends or family for referrals. Be sure to also read reviews and go with your gut.
2. Save 20% or more for the down payment
A 20% down can be a lot for many people, but working to save up that amount is well worth it in the long term. Putting down a bigger down payment helps you not only lower your monthly mortgage payment, but it may also help you avoid the need for private mortgage insurance.
3. Improve your credit score 
You probably already know the higher your score, the better your chances are of qualifying for a lower interest rate. So when it comes to saving money, you need to have a good credit score. If your credit score isn't great, don't get discouraged; focus on the small steps you can take now to reach your goals.
4. Shop around for a mortgage lender with the best rate
Don't just go with the first mortgage lender that offers you a loan. Take the time to talk with several lenders and then pick the one that best fits your needs. They will each offer different interest rates and loan options, and it's important for you to know what your options are before you decide.
5. Buy during the winter
Most people don't want to leave their homes when it's cold, let alone shop for a house. It's for that reason that you can occasionally find a good deal during the winter. Consider buying a house when the temperatures drop and potentially save money.
6. Negotiate closing costs 
Closing costs are often expensive so don't be afraid to haggle. If a seller is truly wanting to get rid of their house then they'll often be willing to pay a portion or all of the closing costs, but they're not going to offer it up front. You will need to negotiate for it.
7. Go for the house that 'needs TLC'
There's a reason why home remodeling shows are some of the biggest hits. What if you stopped watching and started doing? Buying a house that needs extra work is a great way for you to save money, customize the house to your liking, and challenge yourself in new ways. Just make sure you're not biting off more than you can chew.
8. Select a shorter-term mortgage
Longer-term mortgages like 20- and 30-year loans are tempting because they are lower monthly payments, but they also mean paying more interest. Save yourself the money and go for the shorter-term mortgage.
9. Bundle your inspections
If you do your inspections separately, you'll often pay more, but if you bundle them, most places will offer a discount.
10. Participate in specialized programs that include savings incentives
There are several grants and programs that incentivize first-time home buyers and help them save money. Check your eligibility for one of those programs and save yourself some more money.
Conclusion.
Buying a house is a big step and a huge expense, but it's also a monumental moment in so many lives. We hope these tips help you save money as you save up for the house you'll make into your home.