Save with Sig: 10 Ways to Save On Your Groceries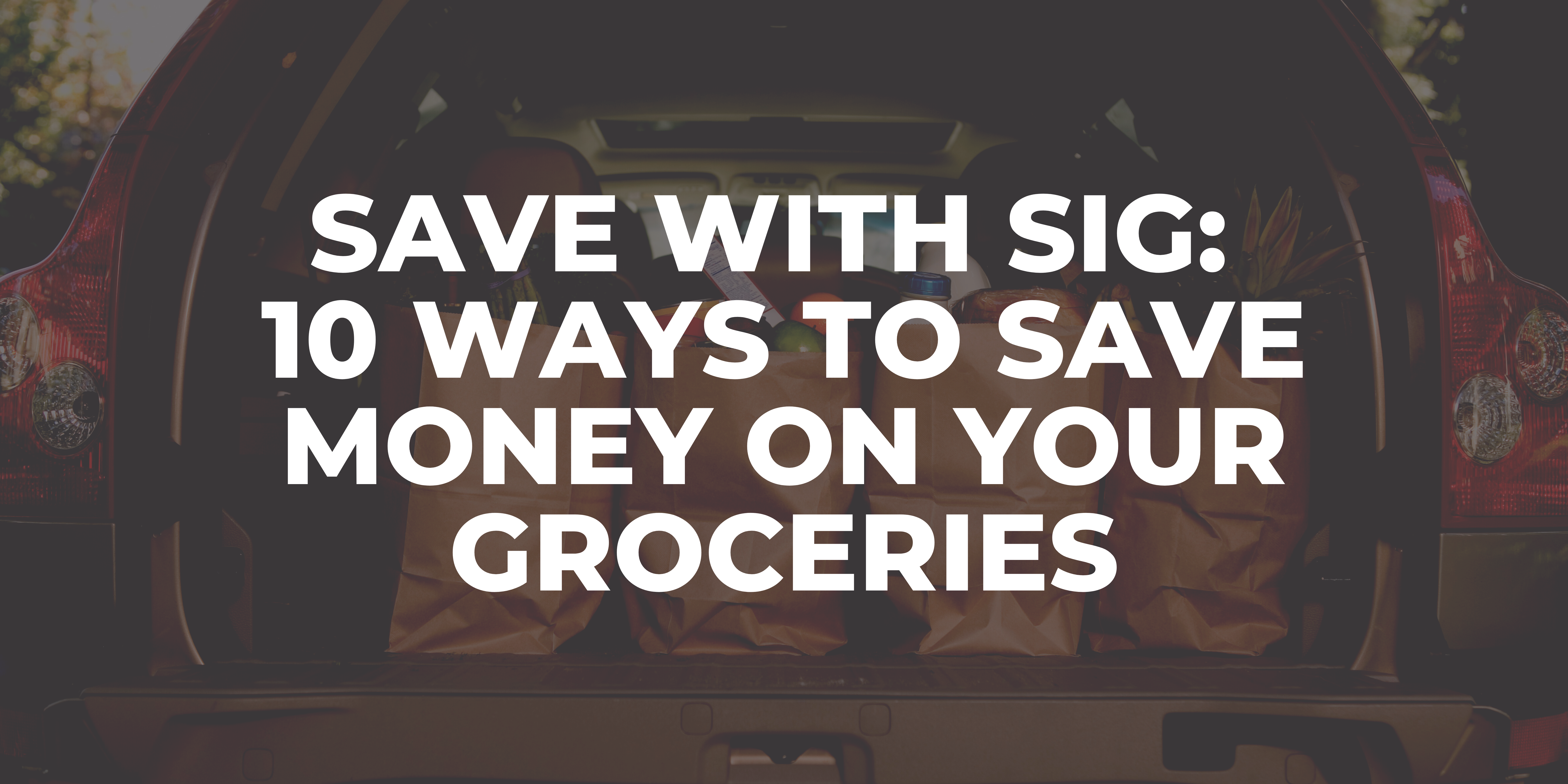 If you do the grocery shopping for your household, then you know that prices have risen.
The items most impacted by rising costs are eggs, bacon, chicken, and beef. So what are you to do about this? Lucky for you, we've compiled our best money-saving tips for your next grocery haul.
In this blog, we will share ten tips on how you can save money on your groceries.
1. Go with a list and stick to it
An additional tip that might help you stick to your list is don't go grocery shopping hungry – you'll just end up tempted and swayed to buy items that are not on your list. So don't go hungry and stick to the list.
2. Sign-up for a grocery rewards program
Who doesn't love to get rewarded for something they have to do anyway? Food is a necessity, and why not get rewarded for grocery shopping, especially if the rewards can help you save money?
3. Purchase through a wholesale club
Buying in bulk is a great way to save money; just be sure you have the space to store all the extra items until you'll need them if you aren't someone who is going to use them quickly.
4. Use coupons
Clipping coupons may seem like something of the past, but it's definitely making a comeback, and we can see why. Families are determined to find ways to save, and coupons are a great way to do just that. Just be sure to read the fine print before you go to the store; you don't want to find out at check-out that your items are excluded.
5. Buy items on sale
This probably seems like an obvious choice, but some people forget to look at the sale section. Most grocery stores will put items that need to be eaten sooner rather than later on sale and lump them together, so keep your eyes peeled for those deals.
6. Use a rebate app
We use our smartphones for so much, and we can even use them to make money on purchases. Be sure to read reviews and find a trustworthy one.
7. Bring your own reusable bags
Some states and stores charge if you don't bring your own bags, so it's a good idea to have them on hand to avoid the extra cost.
8. Choose generic or store brands
Oftentimes generic and store brands will be cheaper than name brands, though occasionally, you can score a better deal on a name brand, so be sure to compare prices and get the most bang for your buck.
9. Compare prices at different stores
Most of us are creatures of habit, always going to the same places, but this might mean we are missing out on deals. Take a look at other stores in your area and see if you can get better prices elsewhere.
10. Skip prepared or prepackaged food
Prepared and prepackaged foods definitely make our busy lives easier, but they can also be more expensive. If saving money is of the up most importance, then you may want to skip these.
Conclusion.
There are several things you can do to save money on your groceries. Don't be discouraged by rising costs. We hope you're able to implement a few or all of these tips to save you and your family money.