Save with Sig: 5 Tips to Save Money On Auto Body Repairs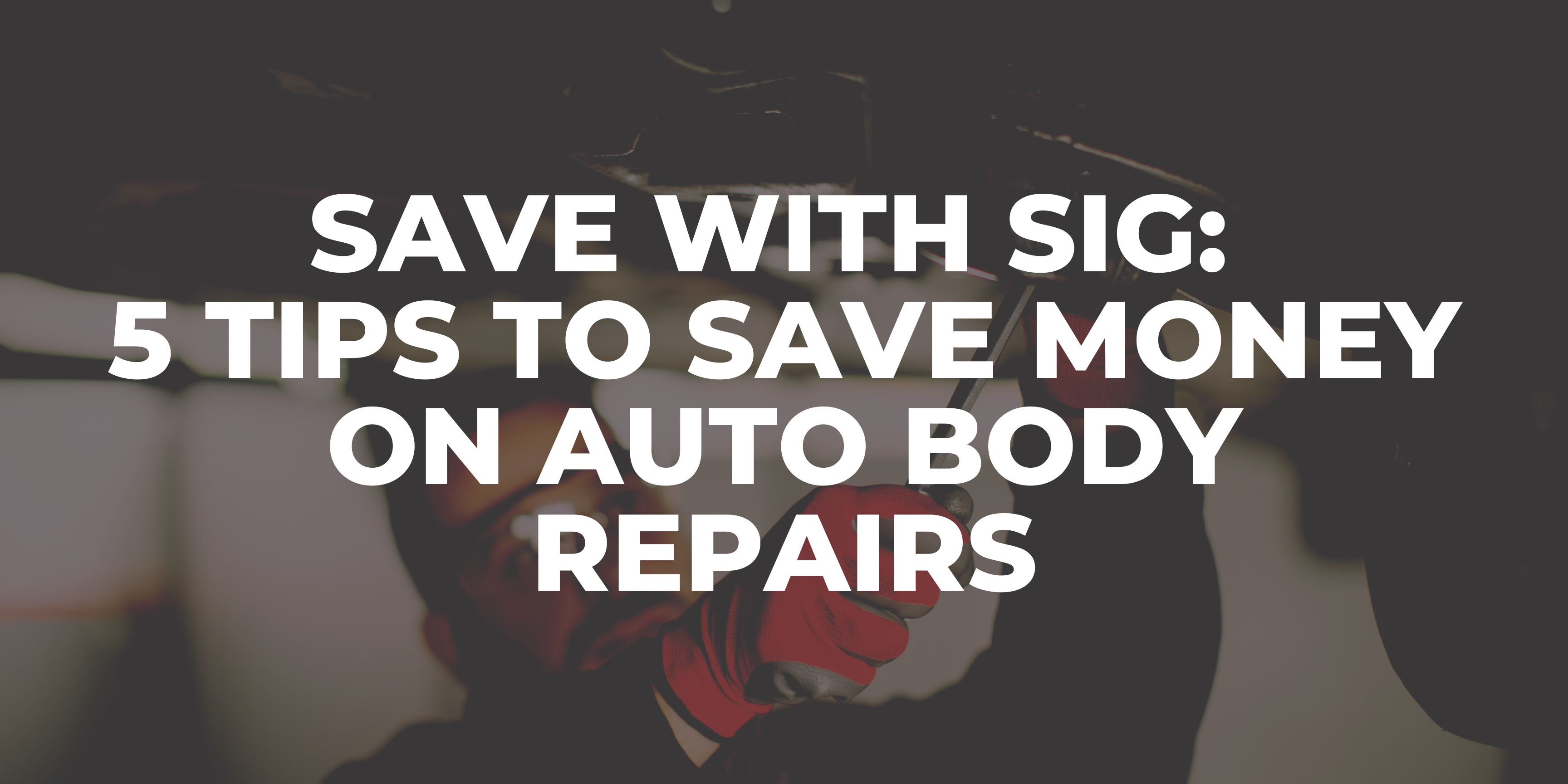 Let's face it, the moment our car starts to make noise or a maintenance light comes on is a moment most of us dread. The unexpected cost of auto body repairs can make us feel overwhelmed. While we can't guarantee your cars will never need maintenance, we can give you some money-saving tips the next time you find yourself at the mechanics.
In this blog, we will share five tips on saving money on auto body repairs.
1. Get more than one estimate along with estimates on labor costs, at the same time.
Shopping around allows you to compare prices and go with the best one. It also helps you guage whether or not what you are being quoted is standard for your area. Aim to get three to four quotes, if you can.
2. Source your own parts.
While car places will source parts those parts often come with profit margins so if you're able to source your own parts then this may be a way for you to cut costs. However, keep in mind that this is not without risks. Take the time to make sure you purchase the right parts and be sure they are in working order too; you don't want to put your passengers in danger.
3. The quicker the repairs are done the better. Sometimes waiting can cause more damage to your vehicle, which can increase the cost.
We've all been there, avoided going to figure out what was wrong with our car for fear of what it would cost us. Or many of us have at least. However, the danger in that is you may be costing yourself more. Sometimes what needs repairing can get worse with time and cost more to fix down the road. Don't wait, get to the shops as soon as you can and get those quotes.
4. Check your car warranty to see if it covers body damage.
Sometimes your car will still be under warranty and that warranty will cover the maintenance you need done. Always consult the policy and see if you can get part of the cost, or all of it covered.
5. Do not always go for the lowest quote. Sometimes cheap prices equate to low-quality work and you will probably have to spend more money in the near future.
Alright, we told you to compare prices in tip number one and we also said by doing that you can go with the lowest price, but we have to also throw in this caution: sometimes the lowest quote will end up costing you more. Be sure to read reviews, and make sure the shop you go with is reputable and trustworthy. You don't want to go with the cheapest only to find out they did a terrible job and you now have to spend even more elsewhere to fix the mistakes the first place made.
Conclusion.
You can't always prepare for when your car will need maintenance, but you can have these tips in your back pocket to help you save money for when that day comes.