Save with Sig: 5 Tips to Save Money On Flights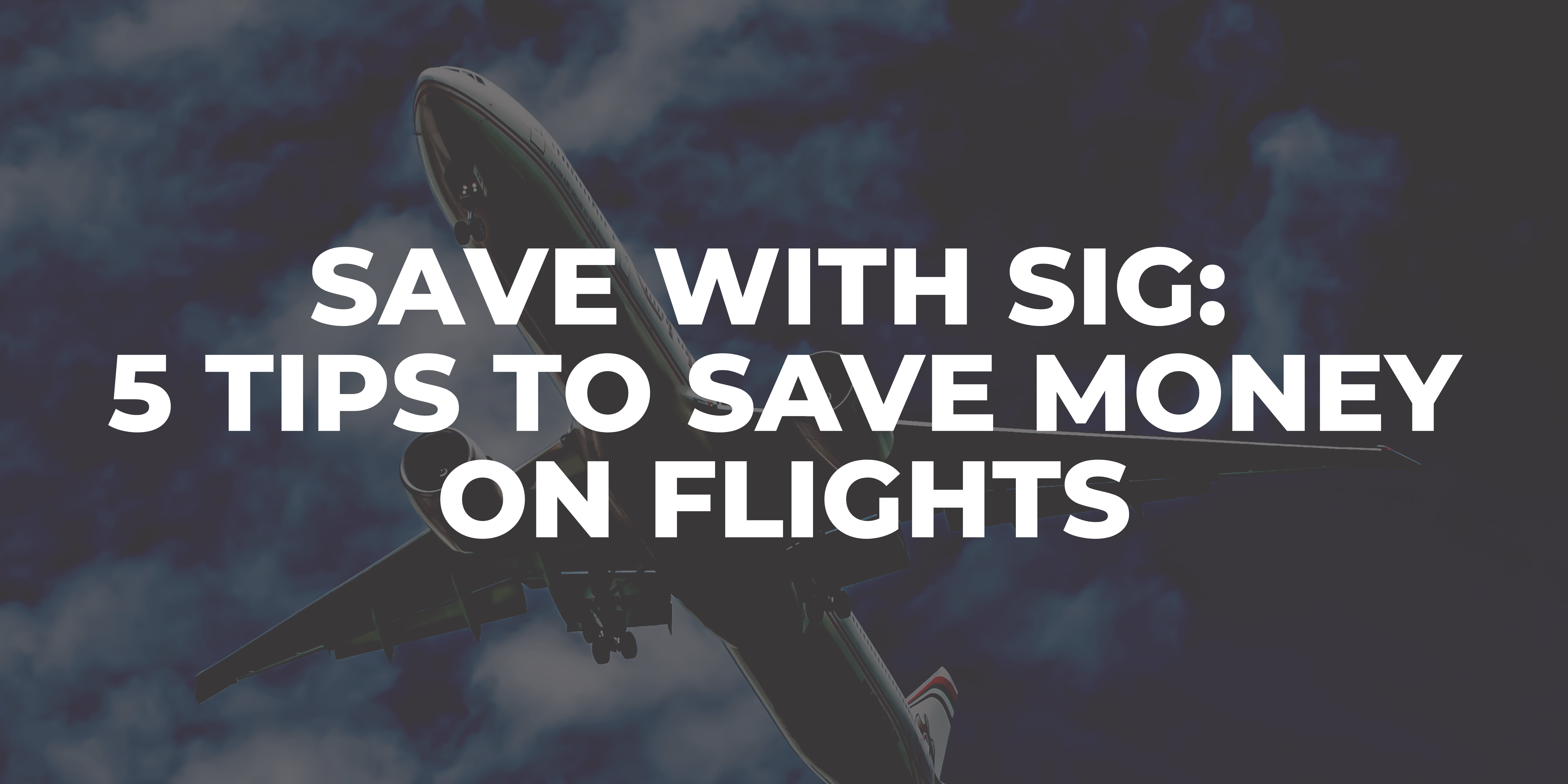 A plane is definitely one of the fastest ways to travel but it isn't the cheapest. Whether you're looking to see family for celebrations, or booking a much-needed vacation you're probably wondering what are the ways to save on your next flight. We've pulled together some great tips for you as you plan your next trip.
In this blog, we will share five tips to save money on flights.
1.
Have flexible travel dates. Use a site like google flights to see the cheapest days to fly.
Sometimes a simple change like your travel dates by a few days can drastically change the flight price. Flight search sites like Google Flights allow you to see the ticket prices for up to two months at a time, which makes it even easier to see if a small shift could result in big savings.
2.
Use the 24hr rule. If a cheaper flight appears within 24hrs of booking your first flight, cancel the old flight and book the new one.
US regulation allows you to cancel or change your flight free of charge within 24 hours of booking, if you booked directly with the airline at least seven days before travel for a flight going to or from the US. If you didn't book directly with the airline, it may still be possible for you to cancel or change free of charge, check your booking policies.
3.
Plan ahead. Especially for international flights, it's best to book at least 6 months out for the best prices.
International flights typically have the best deals 3-6 months out, but if you're traveling during peak times (summer or the holidays) or your dates are inflexible, it's wise to start looking even earlier. Don't immediately book early, keep an eye out for a good deal. You can even set up an alert with Google to be notified of price changes.
4.
Long layovers. Visit two places for the price of one. 
See two cities for the price of one ticket by selecting one with a long layover (8 hours or 1-2 days). Be mindful of meals and lodging if you make your layover too long.
5.
Join an airline's loyalty program. Save your flight miles and then cash in on flights and upgrades.
If you often fly with one (or a few) airlines then you should consider joining their loyalty program(s) to earn points every time you fly. You can then redeem these points for upgrades and flights. If you're going to fly anyway, you might as well get rewarded for it!
Conclusion.
While airline prices continue to increase, we hope these tips help you to save money as you book your travel plans. We all could use some fun and adventure with some extra coins in our pockets!