Save with Sig: 6 Tips to Save Money While Dining Out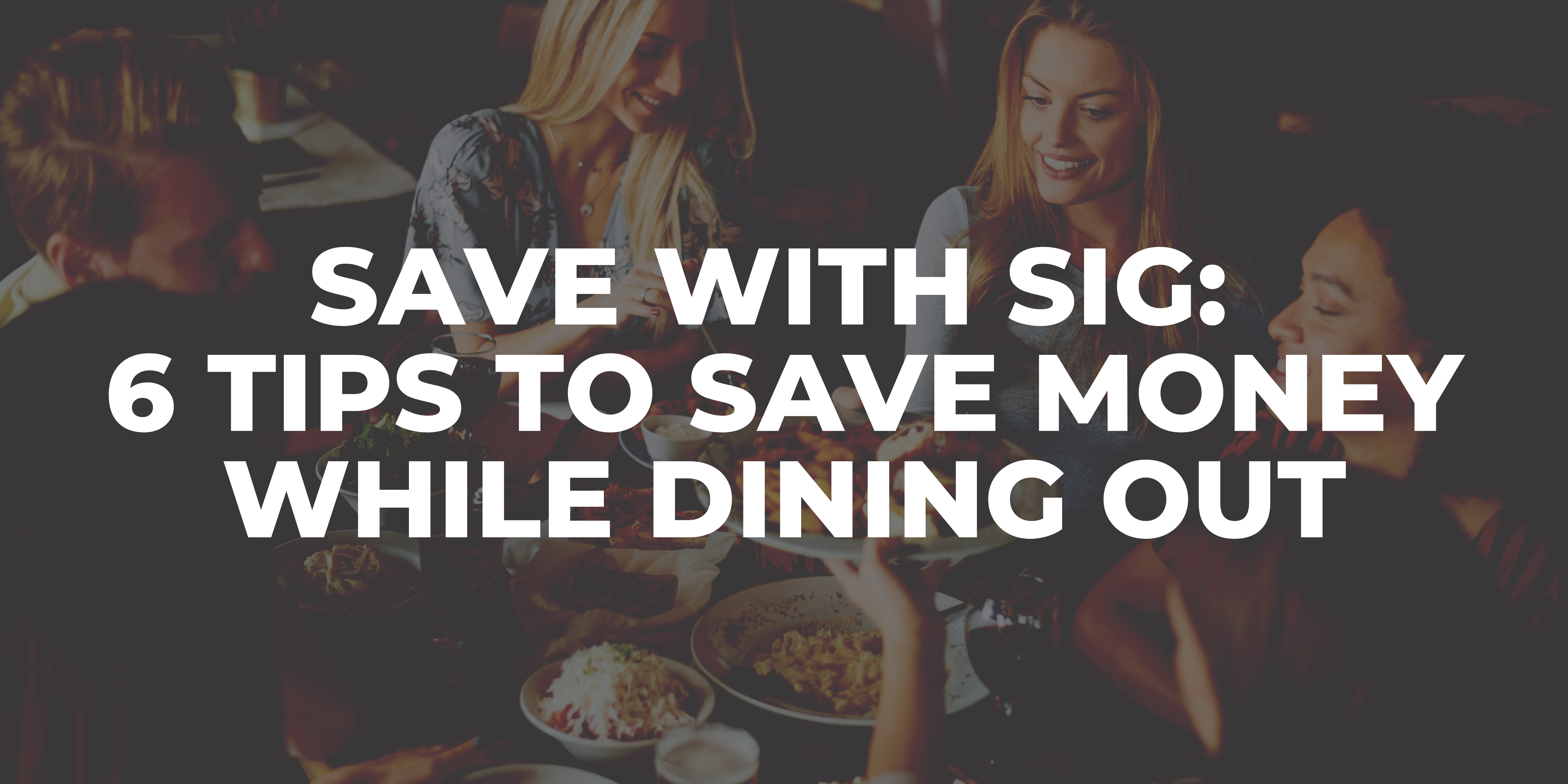 We dine out for all sorts of occasions; maybe it's a birthday, anniversary, graduation, a promotion, or a "just because" meal. Regardless of why you've decided to eat out when the check comes, it might leave you wanting to avoid going out again anytime soon. So how can you enjoy local restaurants and celebrate moments that matter to you in a way that doesn't hurt your wallet as much? You've come to the right place; we've got six tips for eating out.
In this blog, we will share six tips to save money while dining out.
1.

Buy gift cards at lower than face value.
You'll get to spend more without actually spending more. Restaurant.com allows you to purchase gift certificates for less than their value. You may be able to find deals as good as a certificate of $25 to your favorite pizza place for only $10.
2.

Get a discount for being you. 
If you fit into one of these categories: children, seniors, students, or military – most restaurants offer a discount for you; be sure to check online or ask your server.
3.

Join a club or download an app for restaurants.
Most restaurants will offer a discount for signing up and send deals periodically for subscribing or downloading. If the messages/ alerts become annoying, you can always unsubscribe.
4.

Dine in on national days such as national burger day.
There's a special day for just about every food you can think of. So plan your meals around these offers to take advantage of complimentary appetizers, entrees, or desserts.
5.

Complete surveys found on receipts.
While this requires a little extra time, it can be worth it if you're looking for another way to save when dining out. Sometimes these surveys even offer big incentive opportunities for completing them. So, before you throw the receipt away, be sure to check and see if there is a survey you can fill out.
6.

Create a budget of how much you will spend dining out and stick to it.
Sometimes dining out gets out of hand because you didn't go with a budget in mind, and you just kept ordering appetizers and drinks. Next time, keep a dollar amount in mind and include the tip in your budget.
Conclusion.
Your next meal may not be on us, but these tips certainly are, and we hope they help you save money while dining out and enjoying time with loved ones. Happy eating!